When visiting a new country, trying the local food is usually high on the agenda with Georgian food being no different. From Khinkali to Kachapuri to even a assorted Pkhali there is endless choices to try and devour!
We've rounded up our 5 favorite Georgian foods for you to try when you visit Georgia.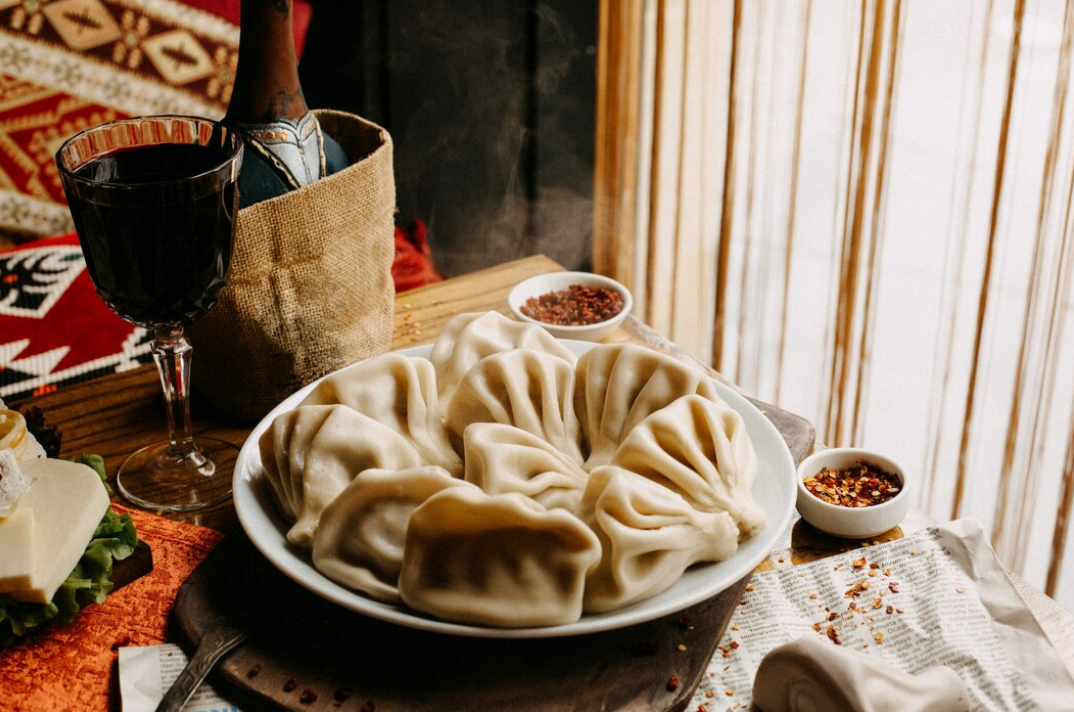 There's no better way to explore Georgia than with Khinkali, which is one of the most popular dishes in Georgian cuisine and considered to be a national dish.
Khinkali originated from the mountain regions of Pshavi, Mtiuleti, Tusheti, and Khevsureti but it's now widely consumed throughout Georgia. They're a popular Georgian comfort food and often served towards the end of feast "Supra".
Khinkali refers to Georgian meat-filled soup dumplings made with knobs of dough filled with a mixture of pork and beef (or lamb). They can be made with other fillings as well like vegetables, mashed potatoes, mushrooms, and cheese, but the most common versions are stuffed with spiced ground meat.
To eat, the dumpling is sprinkled with black pepper and then picked up by its stem by hand. The diner takes a small bite from the side of the top to suck out the hot broth before digging into the filling.
Pkhali refers to a family of Georgian appetizers made with any type of cooked vegetable mixed with ground walnuts, garlic, herbs, and spices. Commonly served at Georgian restaurants, it's like a type of cold vegetable pate or spread that's traditionally eaten with Georgian griddled corn cakes called mchadi.
Pkhali can be made with different types of vegetables like spinach, beetroot, white beans, cabbage, eggplant, carrots, or squash. They take the color of whatever vegetable they're made with so they can range in appearance from a pale orange to a deep green to an intense purple. Typically shaped into balls, they're often garnished with pomegranate seeds and served as the first course at supras.
Kachapuri is one of the most beloved Georgian foods. Like Khinkali, it's a popular comfort food and widely considered to be a Georgian national dish.
Khachapuri refers to a traditional Georgian dish consisting of cheese-filled bread. The bread can be shaped in various ways, typically with the cheese in the middle and a surrounding crust that can be broken off and dipped into the cheese. Aside from a specialized Khachapuri cheese, the filling can contain eggs and other ingredients as well.
This beloved cheese bread is widely available throughout Georgia, both at Georgian restaurants and as street food. It exists in many shapes and variations.
Ajapsandali refers to a traditional Georgian vegetable dish made with different stewed vegetables like eggplant, tomatoes, potatoes, onions, green peppers, and bell peppers. They're stewed till tender with seasonings like garlic, dry coriander, ground red pepper, black pepper, and salt.
Ajapsandali is typically consumed as part of a Georgian family meal. You can think of it as the Georgian version of ratatouille. 
Lobio refers to a popular Georgian bean soup or stew made with kidney beans. It exists in many varieties and can be prepared with cooked or stewed beans flavored with herbs and spices like coriander, garlic, onions, bay leaves, and blue fenugreek. Depending on the version, it can be served hot or cold and is typically eaten with mchadi or Georgian cornbread.
One of the most common types of lobio in Georgia is a cold version called lobio nigozit (bean with walnut). It's typically made with cooked red kidney beans that are mashed with garlic, onions, walnuts, coriander, chili pepper, marigold petals, and vinegar. Hot versions of lobio may contain meat and are often served in a clay pot with mchadi.