Ranging from the soaring Caucasus mountains to the mystical Black Sea, gorgeous ski destinations like Gudauri, as well as numerous hiking trails, there is no dearth of adventure places in Georgia to lure adrenaline junkies. Hop on to this rollercoaster ride as we traverse through the length and breadth of the country in search of some of the top adventure places in Georgia. 
1. Vashlovani National Park
Vashlovani National Park is a wild and remote area of eastern Georgia, known for its unique badlands, sharp cliffs and abundant wildlife.
Vashlovani National Park is distinguished from Georgia's other protected areas by its semi-desert ecosystem. The views of the landscape with the snowy Caucasus Mountains in the background are unforgettable for visitors. It is the best destination for bird watching lovers, since the places is specific with its unique species.
When is the best time for hiking in Vashlovani?
The best season for trekking Vashlovani is spring and autumn. It is too hot in the summer and too cold or rainy or in the winter. Apparently, you can see lots of endemic flowers in the spring, but we also enjoyed the colors of October.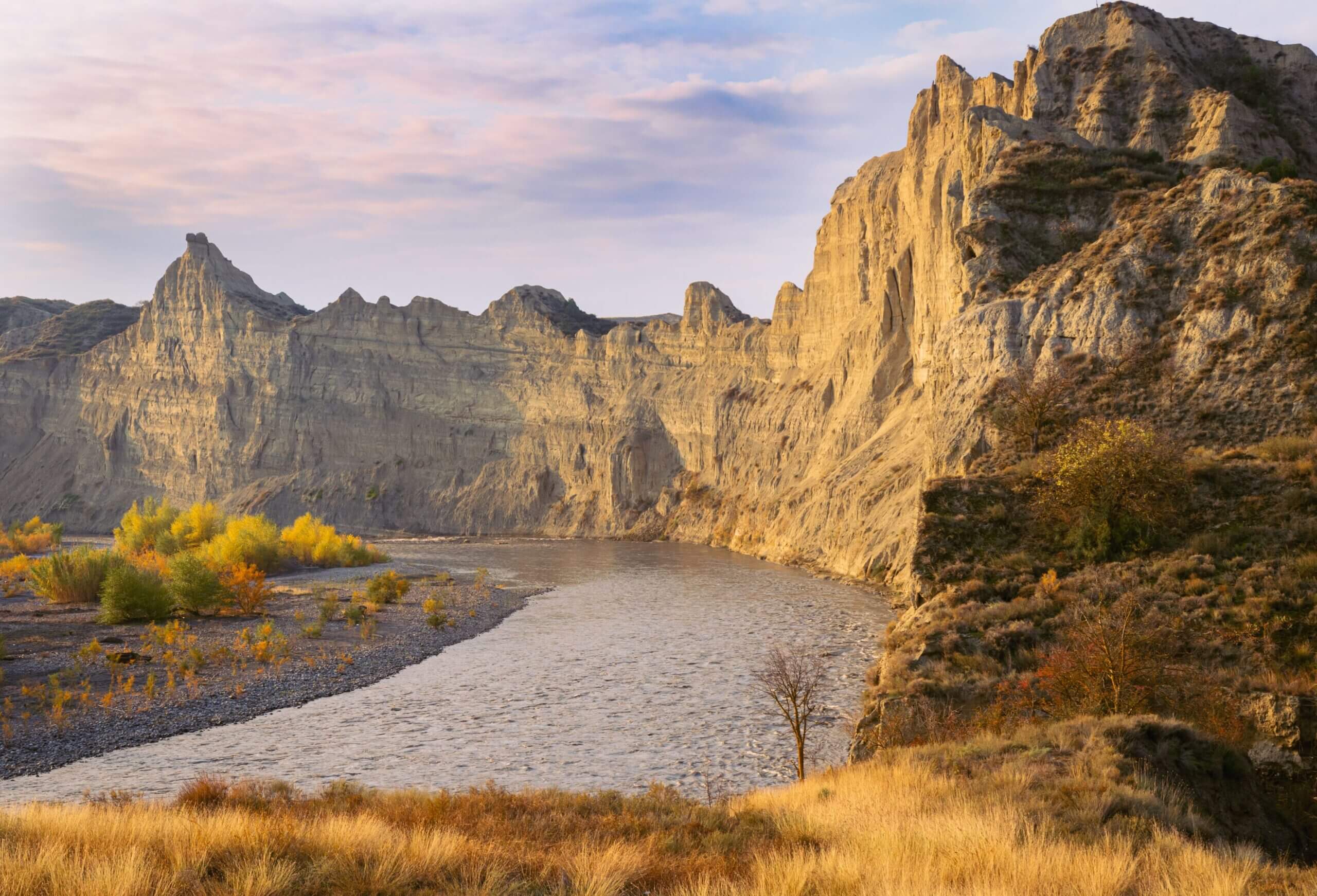 2. Kolkheti National Park
The first natural site in Georgia is nominated on the UNESCO World Heritage List, for its Colchic forests and wetland. 
Established in 1998, Kolkheti National Park is located in western Georgia. It includes east coast line of Black Sea and Lake Paliastomi basin. National Park is created in order to protect and maintain Kolkheti wetland ecosystems of International importance.  
Kolkheti National Park offers a wide variety of boating tours, bird watching and eco educational tours. You can enjoy tours whole year round. The best period for bird watching: early spring and late autumn.
3. Borjom-Kharagauli National Park
Borjom-Kharagauli National Park is the first national park is one of the biggest park in Georgia,with the total area is 104,099 hectares, which is more than 1.5% of country's territory.
Borjomi, famous with its mineral water directly from the tap in a fresh air is looking forward to your visit. The unique and fresh climate stipulates the limpid water. Do not hesitate to plan a trip to Borjom-Kharagauli National Park, enjoy hiking and spend week-end, vacation or even a holiday in a diverse nature.
When is the best time for hiking in Borjom-Kharagauli?
The tourist season lasts all year, allowing visitors to experience the stunning variety of flora and fauna, including alpine meadows full of flowers, as well as stunning views and a broad network of twelve trails through the ancient woodlands.